It is an undeniable truth that everyone always harps on about the importance of a great pair of jeans in your wardrobe to pull out for pretty much any and every occasion but their slightly smarter yet deceptively comfy cousin in the world of trousers, chinos, is often overlooked. However if you haven't looked into getting yourself a decent pair of chinos yet then it is high time that you took a moment to appreciate this classic trend which shows no signs of going anywhere.
For three quarters of the year at least, from spring to autumn, chinos can be the perfect fashion choice when you're out about and are really versatile whether you are looking to have a night out, a smart casual look for the office or are simply planning a Sunday stroll in the park. High street and the designer fashion houses seriously understand their worth so whatever your budget, there will be a pair of chinos out there that will suit your price point. Still not convinced? Then read on as we further extol the virtues of chinos in this article.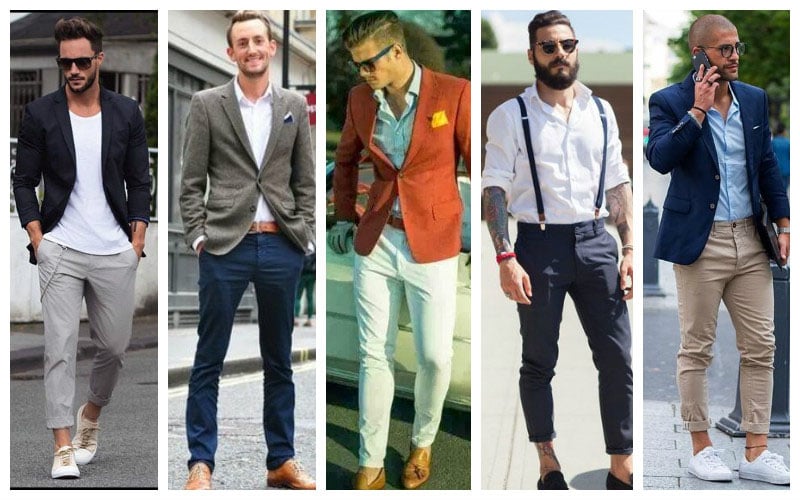 Unless you like to push the bounds of fashion and make more daring choices, then the problem with denim is that we tend to be pretty limited when it comes to what colours we wear. Ok there may be a choice when it comes to which shade of blue denim you plump for, but aside from that it either tends to be black or grey that we choose. However this is simply not the case with chinos where you can pretty much find every shade under the sun. From your more traditional colours of black, navy blue and khaki to bolder ones like red and bottle green through to pastels that really look great through the warmer summer months. Whatever you fancy, when it comes to chinos you'll be able to choose the colour that you want.
We've already mentioned it, but one of the fantastic things about chinos is that despite usually managing to look smarter than jeans, they actually tend to be more comfortable. This is because they are made from thick cotton which is always going to be more breathable and softer than classic stiff denim. Forget wearing jeans that you can't wait to take off as soon as you get home – chinos will keep you cool and feeling great all day.
Another reason that chinos are a great investment to make it thanks to their fit. Especially if you have a particularly athletic physique, finding a pair of jeans that fit easily over your leg muscles without having to buy a pair that is huge at the waist or practically a bell bottom style can sometimes seem like an impossible task. However thanks to the more forgiving fit and silhouette of chinos, you won't have to worry about these bursting at the thigh or gaping at the waist. And if you're slimmer and have relatively small legs compared to your torso, then chinos can really balance out your body. Just another reason to hop on the chino bandwagon today!